HAWKE'S BAY SPOUTING AND RAINWATER SOLUTION SPECIALISTS
Ensure your home stays protected from the weather and avoid costly repairs from leaks and water damage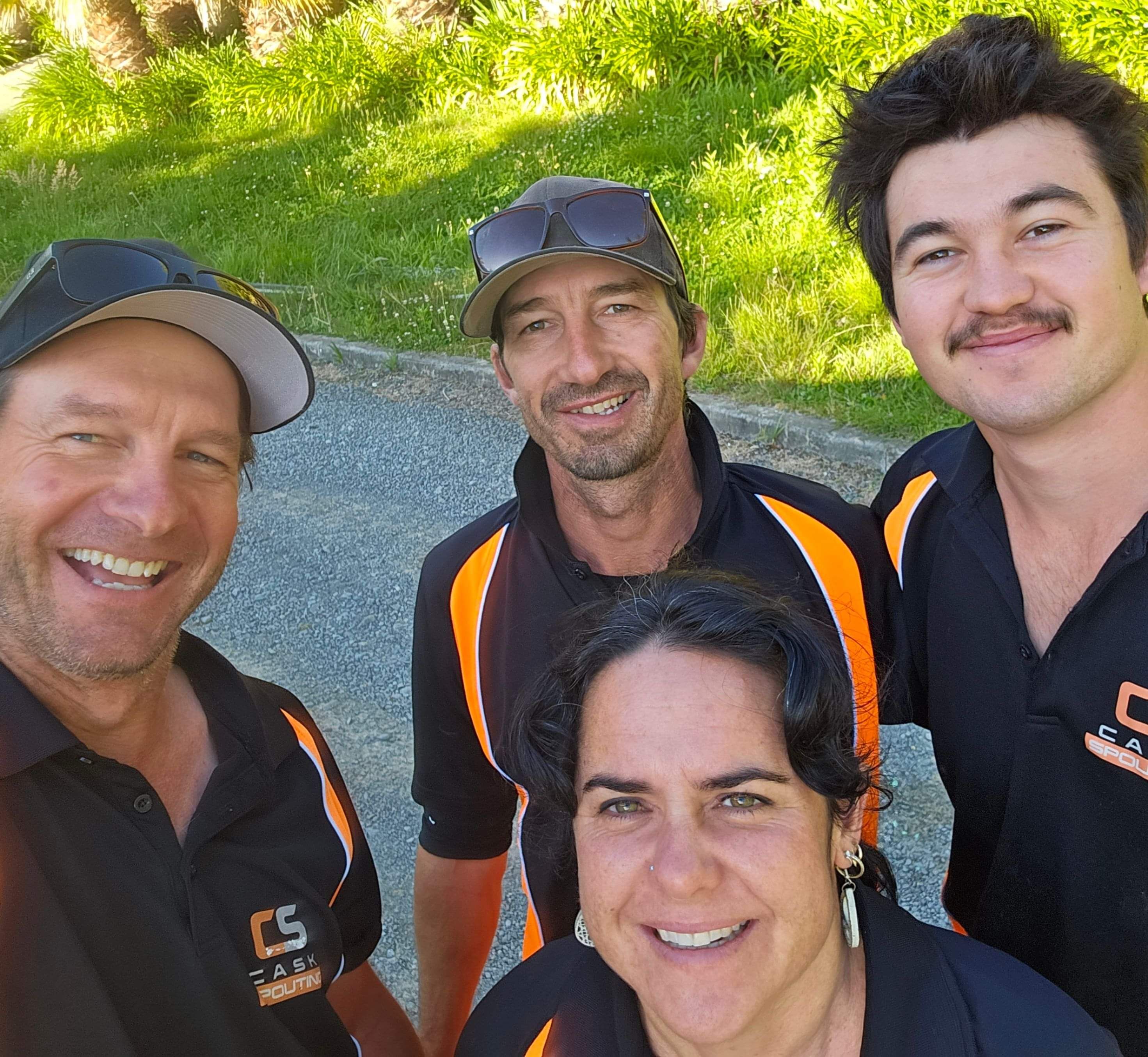 Meet Team CASK
Caley and Jamie Pell have over 25 years combined experience installing and repairing spouting. Qualified carpenters, they bring their building industry knowledge to your job, ensuring a top experience, from enquiry through to completion.
Ryan Spice became a member of the crew early 2021 and has become an integral part of the family team. Since joining us Ryan has spent his time learning and perfecting the spouting craft with the two Pell brothers guiding him.
Working behind the scenes to ensure the spouting operation runs smoothly is Carla Pell, taking care of all admin and office systems.

RAINWATER SOLUTIONS OFFERED HAWKE'S BAY WIDE
Continuous spouting
Made-to-measure on site, your new spouting (guttering) will be a perfect fit for your property.
No sectional joins, or seams, means no leaks.
Continuous spouting colours are designed to match standard roof colours, giving a clean sleek appearance to your home.
We offer three continuous styles:
135mm Quarter Round (QR)
125mm Old Gothic (OG)
150mm Old Gothic (OG)
Other styles available on request:
125mm Quarter Round galvanised
Box Gutter 125mm, 175mm and custom
Half Round
Internal gutters
Part of your roof drainage system downpipes carry water to the stormwater system or water storage tanks.
COLORSTEEL® downpipes
PVC downpipes
65mm, 80mm and 100mm.
Leaf guard / birdproofing
Prevent leaves and other debris blocking your spouting and downpipes with leaf guard
Prevent birds entering the roof through the spouting by birdproofing.
CASK Spouting is a small family run local business. From enquiry through to completion we handle everything ourselves.
HAVE A LOOK AT SOME OF THE WORK WE HAVE DONE
Is the weather getting your home down?
Get high quality spouting, downpipes or fascia, professionally installed by the team at CASK Spouting.
OPENING HOURS
Monday to Friday
8am to 5pm
CALL US
Caley Pell
0277 777 601
Carla Pell
0279 733 755
357 Hill Road, Eskdale
Napier 4182
Hawkes Bay
Exceptional service and quality workmanship